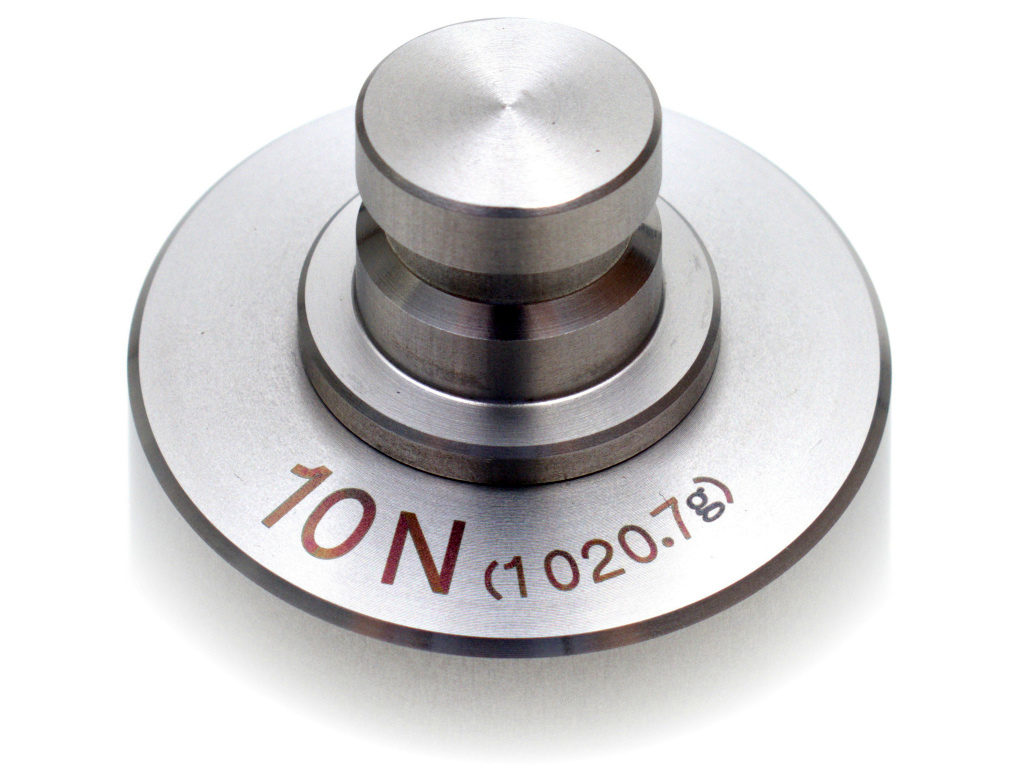 Newton weights
It is necessary for dealing and certification to commute conventional kilogram unit into Newton unit, the international common unit.
Murakami Koki Co.,Ltd. supplies Newton weights and certificate of calibration with JCSS logo mark available.
Material
High quality stainless steel
Variety
200N~0.1N
The gravitational constant varies depending on place, so please make your order by mass(kilogram), NOT weight(Newton).
Weight sets with case
Available to make the weight sets you request.
Certificate of calibration
Shape
(We can custom make the weights as you need.)
Dimensions of cylindrical type (precision weight model)
| Nominal value | A | B | C | H | E | F | G |
| --- | --- | --- | --- | --- | --- | --- | --- |
| 200N | 145mm | 145mm | 83mm | 228mm | 56mm | 40mm | 28mm |
| 100N | 112mm | 119mm | 66mm | 185mm | 48mm | 36mm | 21mm |
| 50N | 90mm | 96mm | 50mm | 146mm | 34mm | 25mm | 15mm |
| 20N | 65mm | 74mm | 29mm | 103mm | 28mm | 24mm | 8mm |
| 10N | 52mm | 58mm | 24mm | 82mm | 21mm | 17mm | 7mm |
| 5N | 42mm | 45mm | 20mm | 65mm | 19mm | 16mm | 6mm |
| 2N | 31mm | 31mm | 14mm | 45mm | 14mm | 11mm | 4mm |
| 1N | 25mm | 25mm | 12mm | 36mm | 12mm | 10mm | 4mm |
| 0.5N | 20mm | 20mm | 8mm | 28mm | 8mm | 7mm | 3mm |
| 0.2N | 15mm | 14mm | 6mm | 20mm | 7mm | 5mm | 2mm |
| 0.1N | 13mm | 9mm | 5mm | 14mm | 6mm | 5mm | 2mm |
Dimensions of cylindrical type (precision weight with hook model)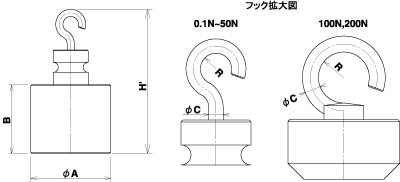 | Nominal value | A | B | H' | C | R |
| --- | --- | --- | --- | --- | --- |
| 200N | 145mm | 144mm | 266mm | 8mm | 13mm |
| 100N | 112mm | 118mm | 215mm | 6mm | 10mm |
| 50N | 90mm | 95mm | 179mm | 6mm | 7mm |
| 20N | 65mm | 75mm | 127mm | 4mm | 4mm |
| 10N | 52mm | 57mm | 105mm | 4mm | 4mm |
| 5N | 42mm | 44mm | 89mm | 4mm | 4mm |
| 2N | 31mm | 30mm | 61mm | 3mm | 3mm |
| 1N | 25mm | 24mm | 53mm | 3mm | 3mm |
| 0.5N | 20mm | 19mm | 44mm | 3mm | 3mm |
| 0.2N | 15mm | 13mm | 33mm | 2mm | 3mm |
| 0.1N | 13mm | 9mm | 26mm | 2mm | 3mm |
Dimensions of cylindrical type (precision weight with ring model)
| Nominal value | B | | | | | | | |
| --- | --- | --- | --- | --- | --- | --- | --- | --- |
| 200N | 144mm | 90mm | 82mm | 25mm | 5mm | 72mm | 180mm | 150mm |
| 100N | 118mm | 90mm | 66mm | 20mm | 4mm | 72mm | 180mm | 150mm |
| 50N | 95mm | 64mm | 52mm | 20mm | 4mm | 56mm | 150mm | 120mm |
| 20N | 73mm | 46mm | 36mm | 10mm | 3mm | 30mm | 120mm | 100mm |
| 10N | 57mm | 36mm | 26mm | 8mm | 2mm | 20mm | 90mm | 75mm |
| 5N | 45mm | 30mm | 22mm | 6mm | 2mm | 12mm | 55mm | 46mm |
| 2N | 31mm | 22mm | 18mm | 6mm | 2mm | 12mm | 50mm | 41mm |
| 1N | 24mm | 18mm | 15mm | 6mm | 2mm | 12mm | 45mm | 36mm |
| 0.5N | 20mm | 13mm | 10mm | 4mm | 1mm | 10mm | 40mm | 32mm |
| 0.2N | 14mm | 11mm | 9mm | 4mm | 1mm | 10mm | 35mm | 27mm |
| 0.1N | 9mm | 10mm | 8mm | 4mm | 1mm | 10mm | 30mm | 22mm |
Dimensions of cylindrical type (OIML model)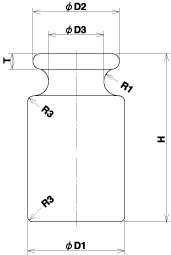 | Nominal value | D1 | D2 | D3 | H | R1 | R3 | T |
| --- | --- | --- | --- | --- | --- | --- | --- |
| 200N | 128mm | 112mm | 87mm | 228mm | 18mm | 3mm | 22mm |
| 100N | 100mm | 90mm | 58mm | 186mm | 15mm | 3mm | 17mm |
| 50N | 80mm | 72mm | 46mm | 147mm | 12mm | 2mm | 13mm |
| 20N | 60mm | 54mm | 36mm | 106mm | 9mm | 2mm | 10mm |
| 10N | 48mm | 43mm | 27mm | 82mm | 7mm | 2mm | 8mm |
| 5N | 38mm | 34mm | 22mm | 66mm | 6mm | 2mm | 6mm |
| 2N | 28mm | 25mm | 16mm | 48mm | 4mm | 2mm | 5mm |
| 1N | 22mm | 20mm | 13mm | 40mm | 4mm | 1mm | 4mm |
| 0.5N | 18mm | 16mm | 10mm | 30mm | 3mm | 1mm | 3mm |
| 0.2N | 13mm | 12mm | 8mm | 23mm | 2mm | 0.5mm | 2mm |
| 0.1N | 10mm | 9mm | 6mm | 20mm | 2mm | 0.5mm | 2mm |
| 0.05N | 8mm | 7mm | 5mm | 17mm | 1mm | 0.5mm | 1mm |
| 0.02N | 6mm | 6mm | 3mm | 11mm | 1mm | 0.5mm | 1mm |
| 0.01N | 6mm | 6mm | 3mm | 6mm | 1mm | 0.5mm | 1mm |
Dimensions of slotted type
| Nominal value | A | B | C | D | E | F | G | H | J |
| --- | --- | --- | --- | --- | --- | --- | --- | --- | --- |
| 200N | 180mm | 13mm | 115mm | 2mm | 3mm | 5mm | 101mm | 50mm | 15mm |
| 100N | 180mm | 13mm | 61mm | 2mm | 3mm | 5mm | 101mm | 23mm | 15mm |
| 50N | 150mm | 13mm | 48mm | 2mm | 3mm | 5mm | 101mm | 16.mm | 15mm |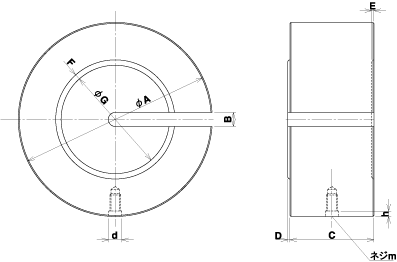 | Nominal value | A | B | C | D | E | F | G | | | |
| --- | --- | --- | --- | --- | --- | --- | --- | --- | --- | --- |
| 20N | 100mm | 13mm | 37mm | 2mm | 2mm | 5mm | 71mm | 10mm | 5mm | M8 |
| 10N | 100mm | 13mm | 18mm | 2mm | 2mm | 5mm | 71mm | 10mm | 5mm | M8 |
| 5N | 70mm | 9mm | 19mm | 2mm | 2mm | 4mm | 51mm | 8mm | 5mm | M6 |
| 2N | 50mm | 9mm | 15mm | 1mm | 2mm | 3mm | 36mm | 8mm | 5mm | M6 |
| 1N | 50mm | 9mm | 8mm | 1mm | 2mm | 3mm | 336mm | 5mm | 3mm | M3 |
| 0.5N | 35mm | 9mm | 9mm | 0.6mm | 1mm | 3mm | 26mm | 5mm | 3mm | M3 |
| 0.2N | 25mm | 7mm | 7mm | 0.6mm | 1mm | 2mm | 17mm | - | - | - |
| 0.1N | 25mm | 7mm | 4mm | 0.6mm | 1mm | 2mm | 17mm | - | - | - |
Price list
Weight
(Newton)

Mass
1N=102g

Cylindrical type(Precision model)
Standard / with hook / with ring

Cylindrical type (OIML model)

Slotted type

Certificate fee
Rank 3'

200N
20.4kg
¥134,000
¥160,000
¥201,000
¥227,500
¥182,000
¥36,000
100N
10.2kg
¥84,000
¥101,000
¥126,000
¥128,700
¥133,000
¥11,000
50N
5.1kg
¥48,000
¥58,000
¥72,000
¥85,800
¥66,000
¥11,000
20N
2.04kg
¥26,000
¥32,000
¥39,000
¥35,100
¥39,000
¥11,000
10N
1.02kg
¥15,000
¥18,000
¥23,000
¥28,600
¥33,000
¥11,000
5N
510g
¥11,000
¥14,000
¥17,000
¥23,400
¥24,000
¥9,000
2N
204g
¥9,500
¥12,000
¥15,000
¥19,500
¥19,000
¥9,000
1N
102g
¥8,000
¥10,000
¥12,000
¥18,200
¥17,000
¥9,000
0.5N
51g
¥7,000
¥9,000
¥11,000
¥14,300
¥15,000
¥9,000
0.2N
20.4g
¥6,000
¥8,000
¥9,000
¥11,700
¥12,000
¥9,000
0.1N
10.2g
¥6,000
¥8,000
¥9,000
¥10,400
¥10,000
¥9,000